All you need to build stunning apps
Clan is a plug-and-play module based mobile app builder. We have many modules that help to
build a niche app for your need. If you need custom modules we can build for you ON DEMAND.
Events
Post events happening in your neighbourhood, with details of the events.
Courses
Post courses, course details, photos of the courses happening in your neighbourhood.
Messages
Messaging tool, users and members can communicate with each other.
Profile
Users can create profile for them with photo and other details to share with other users with in the community.
Our People
Post details about the members of the community for the users to know.
About Us
Your introduction to the users, you can post details about your organisation, with photos address, contact number and email for the users to know.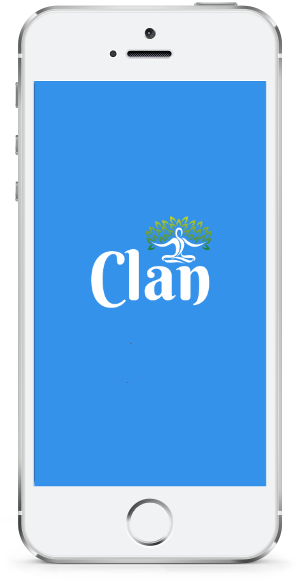 News
Update your users with latest happenings in your neighbourhood with photos.
Videos
Post videos which you want to share with your users. You can post youtube videos also.
Albums
Create album of photos which you want to share with your users.
Feedbacks
Users can post feedbacks, complaints, compliments about anything in the neighbourhood with photos.
Booking Facility
Users can check the availability of the facilities available and reserve them for their usage.
Magazine
Publish your digital magazine in pdf format for your users.
On Demand
These special modules can be included in your app on demand. These modules are dynamic and database oriented.

Members
Listing of the users who use the mobile apps, with the details, the users allow to view by other users of the app.

Market Place
This module helps users to buy and sell online. Users can post the products they want to sell or buy with pictures.

Service Provider
This module helps to provide the list of service providers like plumber, electrician, other kind people who's service for your users. Users can search and find the service providers

Member Post
This module will enable the users to post content to all the users.

Chat
Interactive chat, helps the users to communicate with each other real time.

Login / Signup
If you want the app should have authentication system to use, this module helps. Users have to signup first and login to use the app.
How it Works
The process of building your mobile app and maintaining
is very simple, you can build your mobile app in few clicks.

Build.
Use our online app builder to choose your app name, icon, initial screen, colors, fonts and what are the modules you want for your app and build your app.
Publish.
We will publish your app in iOS app store and Google play store. The apps will be available in 4 weeks time in the app stores. We will notify you the availability with QR Code, which you can use to publish your app to your users.
Manage.
Manage your app content from our easy to use cloud based content management system. if you know how to post in facebook you can easily manage the content.
How to manage your App Contents
Clan comes with a cloud based content management system to add and edit
content of your mobile apps. You can add multi language content to your apps.

CMS
Cloud content management system is simple to use. If you know how to post in facebook or send email you can update content of your app using the CMS.
Preview Content
When you add or edit contents, you can preview them before publishing to users. This makes you to feel the contents in the real devices.
Multi Language content
Clan provides the choice of adding contents in multiple languages to cater to different language speaking, reading people. Users can get the contents in the language based on their choice.
How much does it cost to build and manage your apps
Clan is a software as a service model based app building platform. You don't need to pay high upfront payment to build your app, we charge you only monthly subscriptions for hosting, managing, supporting your app and contents.
Pay yearly get % discount.
Only Android app
$
/MONTH
billed monthly
Only iOS app
$
/MONTH
billed monthly
$
/MONTH
billed monthly
Try before you subscribe
Please fill in the details, we will setup a demo for you to try the service.
You can download the demo apps from here.
Download for iOS
Download for Android
We will email you the content management system details, to update content and connect to the demo app.
Frequently Asked Questions
Where will my mobile app be published?
Your app will be published in Apple app store for iphones / ipads, and Google play store for all android devices.
When will my app be available in the app stores?
Once you finish designing your app, it will take 3-4 weeks to get the app available in apple app-store, 1-10 days to get the app available in the google play store.
Why is there an annual / monthly fee?
Our mobile app development platform is Software As A Service. You wont pay for the development cost, but pay a subscription fee for using the service. The annual / monthly fee is for hosting, technical support and maintenance of the your app.
Can I publish my app in my developer accounts in Google play / iOS app store?
No, Ours is a mobile development platform, and you are using our services. so the apps will be published in our developer account. If you want to publish in your developer account, please do send an mail with details [email protected] we will get back to you about the details.
How can I update the content of my app?
Our cloud based content management system is simple easy to use content management system, using the system, you can update the content of your apps. If you know how to post content in facebook or send email you can update the content easily in our content-mangement-system.
What if I exceed the storage space allowed for my subscription?
Based on your subscription there is a limit to store your content like photos / videos. If you exceed the limit, you can upgrade your storage limit with a small fee.
Get in Touch with us
Still have Questions? Drop Us a Line.
Email
Address
20 Sin Ming Lane,
#06-68, Midview City,
Singapore 573960.